Emerald Necklace Diamonds 18K Gold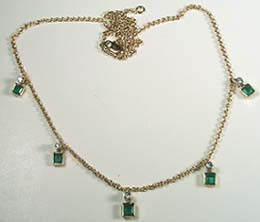 (Click the Necklace to see the close-up view)


This is a most artistic hand-made one of a kind Emerald necklace in 18 Karat Gold made with 5 Colombian Emeralds of the finest color and quality and with 5 small clean white diamonds as accents.
This necklace is made to dangle and move in an alive fashion on the neck.
This necklace is 16 inches long and the clasp is 18 Karat Gold too.
Notice the great PURE EMERALD GREEN color of the emeralds in our second picture.
These emeralds are untreated, unaltered and are unenhanced 100% natural stones.
Please click the blue link below to read more about the wonder of ancient & modern day emeralds.
http://www.cnn.com/2013/12/02/business/emeralds-gems-jewelry/index.html?hpt=hp_c3
Go Back To List
copyright © 1997 Jewelbiz