Burma Ruby Diamond Lapel Pin 18K Gold
FOR THE MOST ELEGANTLY ATTIRED PERSON
This 18 karat gold lapel pin has Burma rubies of the absolute finest ruby red color and they are the highest quality.
Featuring- 3 round full cut diamonds approximately .12 points each, and 15 Burma rubies.
14 of the rubies are approximately .10 point stones and the center ruby is a .22 point stone.
A ruby and diamond lapel pin would suit a very elegantly dressed person and will become a signature piece of your jewelry.
People love to wear precious stones on their lapels.
The next picture is the side view!
It is unsigned.
The next picture is the back view!
It measures approximately 2/3 of an inch in diameter.
Notice the size of this bee-hive cluster ruby and diamond pin next to the U.S. dime!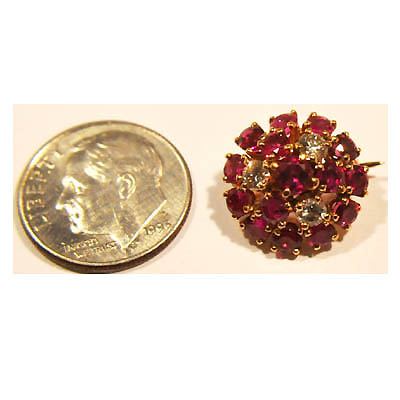 Go Back To List
copyright © 1997 Jewelbiz