This diamond clasp is for your most exquisite strand of pearls or gemstone (including Jade, Ruby, Emerald, etc.) beads.
This has an exquisite marquise diamond center stone.
If you have wonderful pearls or other gemstones you really cherish or care about, this is the diamond clasp for them!
Most clasps are insipid, usual and commercial.
Not this one!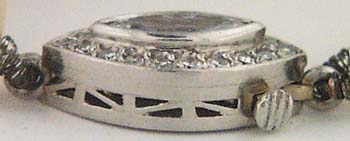 This clasp is for the connoisseur.
This Art Deco clasp is unsigned, but it IS PLATINUM!
There are 18 single cut diamonds surrounding a marquise diamond.
It measures approximately 1/2 of an inch in width X 1/3 of an inch in length.
Remember this stunning, vintage clasp is not only just for pearls.
Any drilled gemstones or beads will benefit and look gorgeous being strung on this highest quality clasp!