Antique Chinese Jade Disc Rose Quartz, Garnet Bead Necklace

(Click the Necklace to see a close up of the Bottom segment)


LOVELY SOFT SENSUOUS GREEN LUCKY JADE NECKLACE WITH ROSE QUARTZ
This is a beautiful unique Antique Chinese Jade, Rose Quartz + Garnet necklace featuring a big 2 3/4 inch soft green Jade disc with a square center carved with a square inner border.
Both sides of the Jade are carved with the square inner border.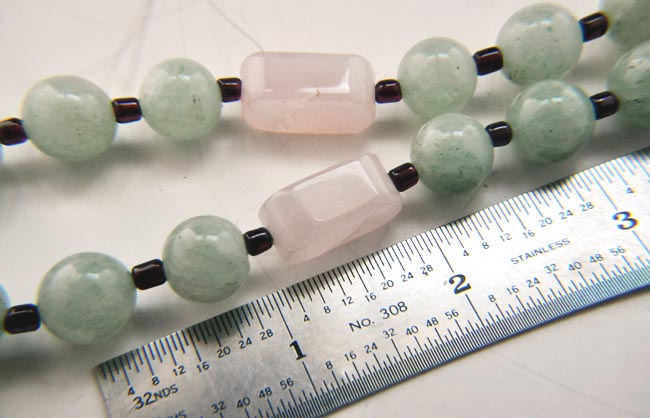 Rose quartz, jade + garnet beads hang down and dangle from this jade disc to form this necklace's bottom segment.
The top of this jade disc necklace comprises light green jade beads spaced with garnet barrel shaped beads and featuring 2 rose quartz oblong 4 sided rose quartz beads approximately 3/4 of an inch in diameter on each side.
The jade beads measure approximately 1/2 an inch in diameter or approximately 12 mm.
It is unsigned.
The top necklace measures 16 inches long + features a sturdy old twisting barrel clasp.
This is a very distinctive, noticeable hand made one of a kind Jade necklace with a most lovely shade of green jade.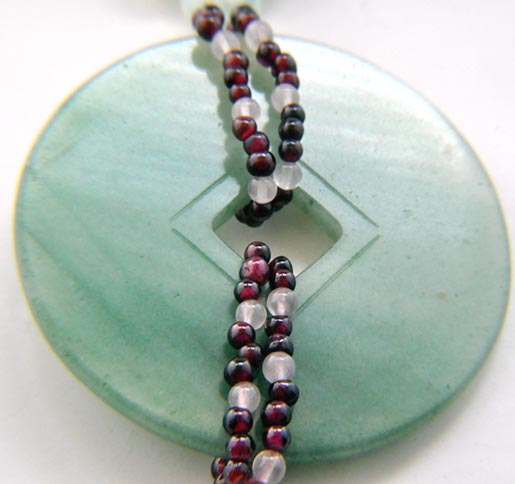 Go Back To List
copyright © 1997 Jewelbiz