1920'S ART DECO MIRRORED VANITY VINTAGE OAK WITH MATCHING BENCH
SHABBY CHIC
This vanity is so womanly and feminine.
The top of this 1920's vanity where our photos sit is all mirrored.
The central open space is also all mirrored.
The unusual shaped mirror is so wonderful.
The vanity has 2 matching side drawers for make-up, hair things, perfumes, etc.
This measures approximately 52 inches long X 58 inches tall X 18 inches deep.
The bench measures approximately 30 inches long X 21 inches tall X 15 inches deep.
The vanity is in good original condition but the curved art deco bench we are including with it which matches it needs to be reupholstered.
This vintage, shabby chic set is perfect for your beach or country house or your stylish apartment.
More pix of this beautiful Shabby Chic Art Deco Vanity!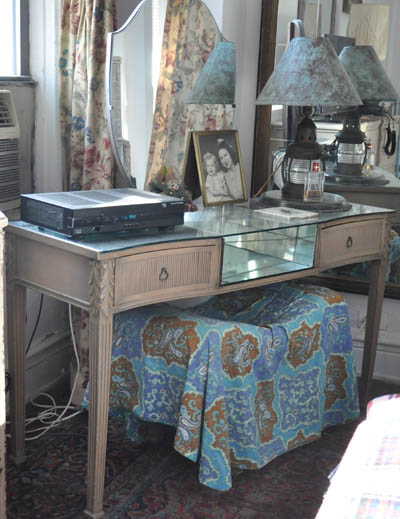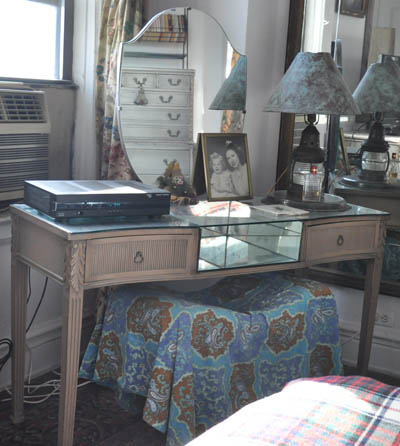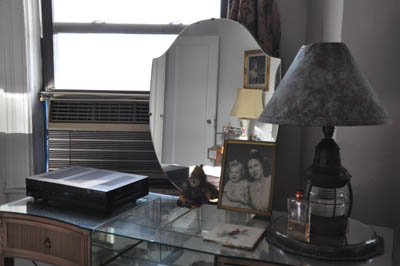 $2500.
---
1952 VINTAGE MOVIE POSTER NUMBERED
EARLY MARILYN MONROE MOVIE ROLE AS PSYCHO BABYSITTER
....A WICKED SENSATION AS THE LONELY GIRL IN ROOM 809!
1952
Numbered 52/299
with RICHARD WIDMARK
Original
Poster Condition: GOOD
Wood frame with glass over poster
Top wood on right is a bit cracked
Top wood can easily be replaced
This measures approximately 26 X 40.
$2500.
---
ELEGIAC 1906 NEW YORK UNIVERSITY SEPIA PHOTOGRAPH OF THEIR FOOTBALL TEAM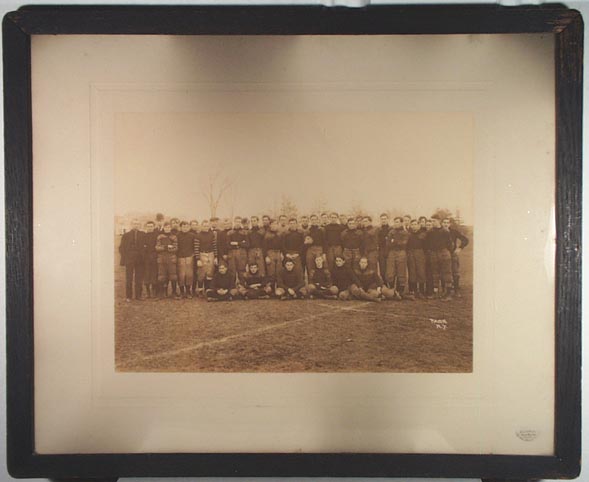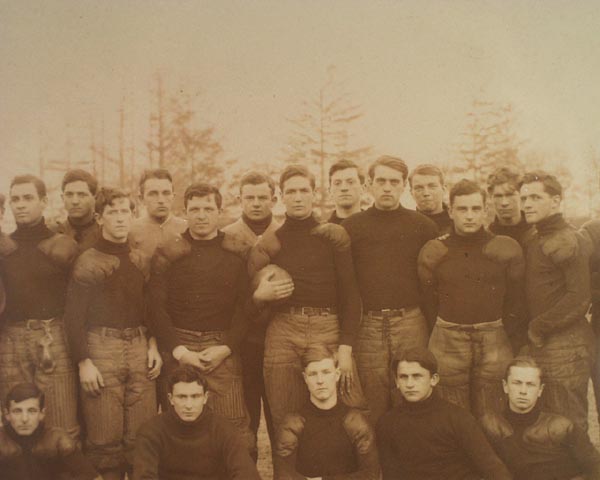 Date: 1906
Category: Early 20th Century Photographs
This is an original 1906 sepia photograph of N.Y.U.'s football team.
We find this team photograph of the entire football team mystical, enchanting and very lovely.
We love the interplay of personalities of these young men although they are posing seriously straight for the camera on their Washington Heights football field.
We recognize the captain who obviously is holding the ball and we appreciate the archaic uniforms of the period.
Most of all we think about these 39 American men in the prime of their lives 106 years ago when they were young, strong, and oh so very handsome!
Condition: The photograph is in fine condition but the top area of the old mat is somewhat discolored.
This photograph is framed under old glass.
Measurements: Frame measures 17 X 21 1/2.
Photograph measures 11 X 14.
Creator:(Artist/Maker) Pach
Object Type: Photograph in Oak Frame Under Glass.
Style/Period/Movement: Turn Of 20th Century Photography
Inscriptions/Marks: Pach Bros. 935 Broadway, New York
Football Photograph is $495.
---
WROUGHT IRON MID-CENTURY MODERN 1950s BOOK CASE SHELF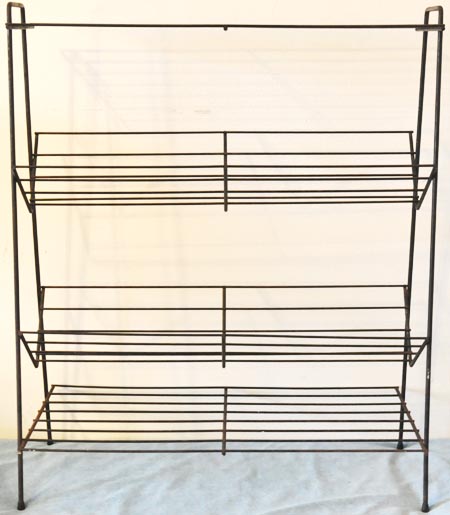 CONDITION- WONDERFUL AS IT EVEN HAS THE 4 LITTLE RUBBER COVERS FOR THE 4 LEGS OR FEET!
This is a wonderful usable Mid-Century Modern wrought iron bookcase.
It features 4 shelves; 2 flat shelves (the top & bottom shelves) and the 2 other middle shelves that are angled therefore great for reading the title of the book's spines
It is unsigned.
It measures approximately 32 inches tall ( 2 2/3s feet) X approximately 12 inches deep at the flat base shelf tapering to 8 inches deep at the top flat shelf X 26 inches wide.
$100.
---
CASTELLI MID-CENTURY MODERN PLASTIC MOVEABLE CABINET ON WHEELS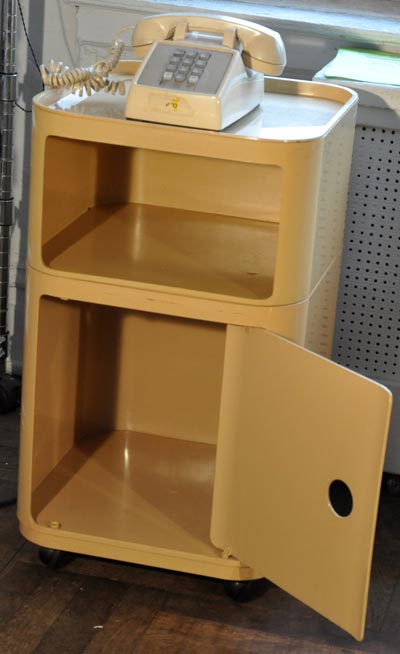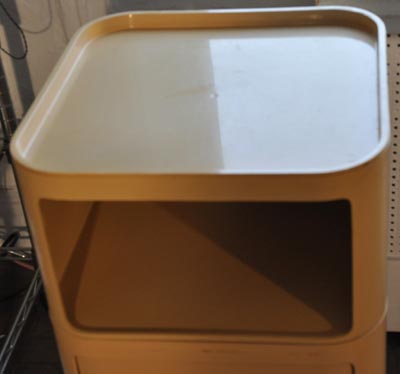 $100.
---
ANTIQUE PAIR MONKEY MONKEYS CAST IRON VICTORIAN LAMPS GLASS HAND PAINTED SHADES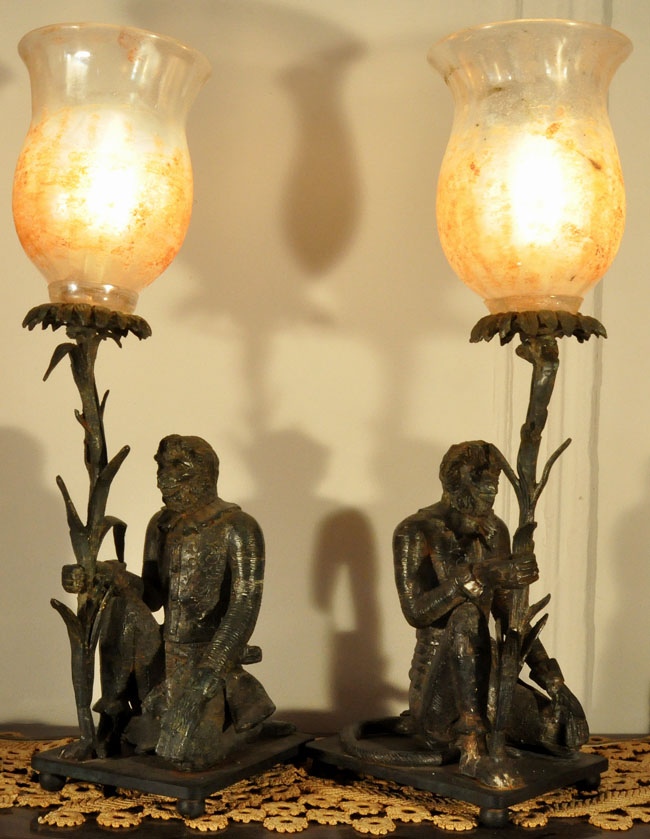 20 INCHES TALL
Tails wrapping around base.
Weird expression on faces
They are unsigned.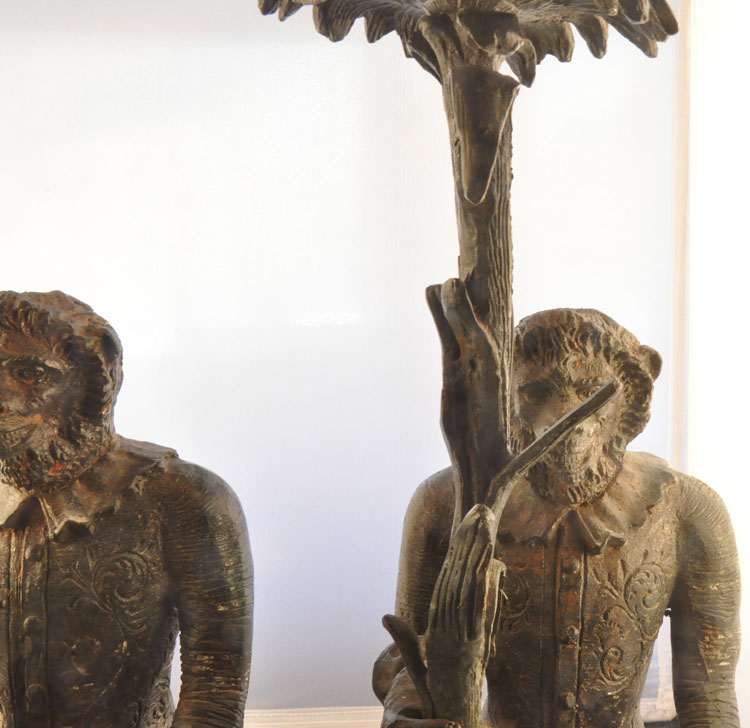 Works perfectly.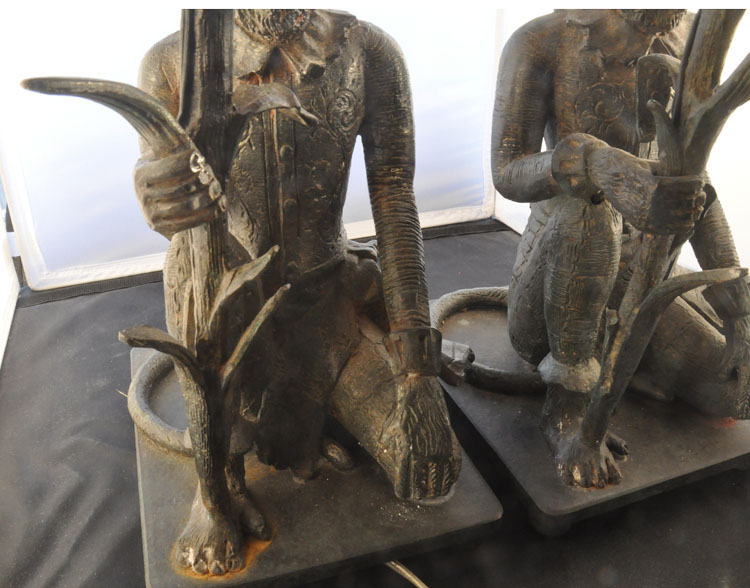 They measure approximately 20 inches tall X with a base with ball bun feet of approximately 5 1/2 inches X 7 inches.
The pix speak for themselves.
Very very heavy solid lamps.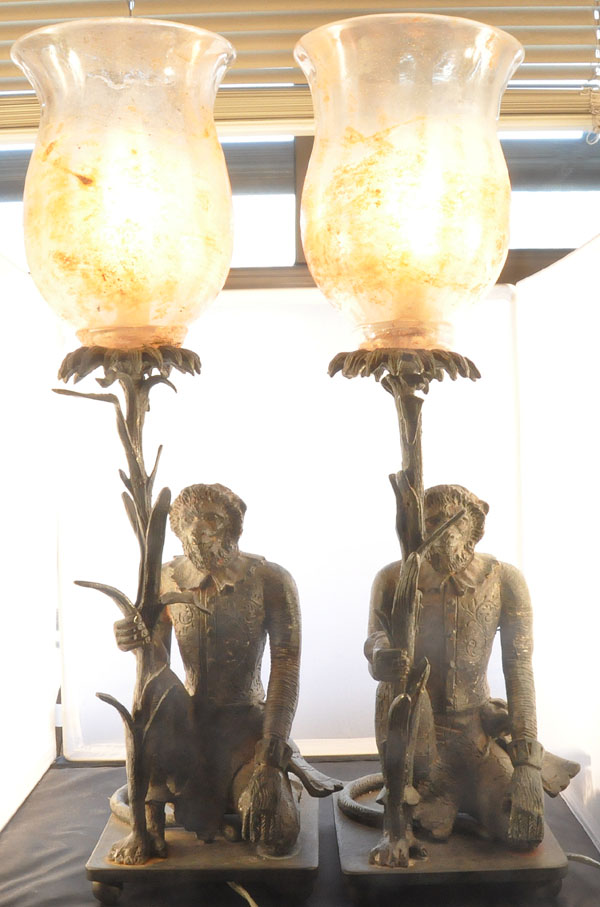 Asking $3600.
---
ANTIQUE ART DECO BEADED BAG FRINGE SILK BRIDE DOLL COIN PURSE TINY EVENING CLUTCH as is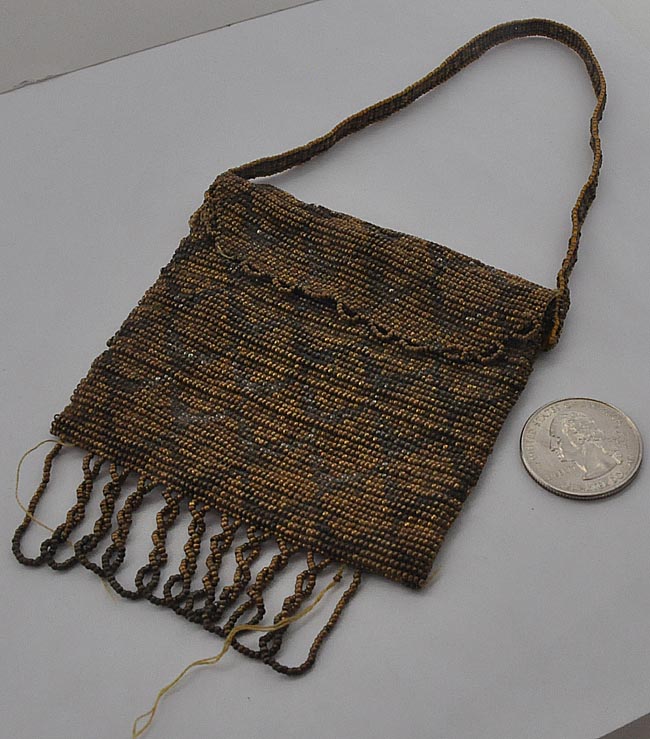 GOLD & SILVER GLASS ANTIQUE BEADS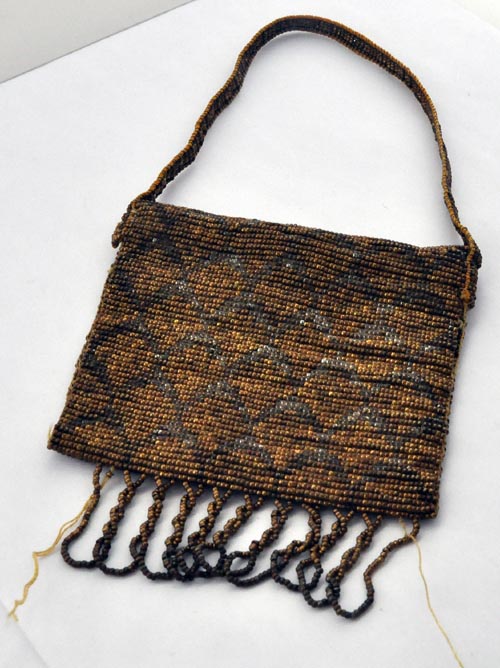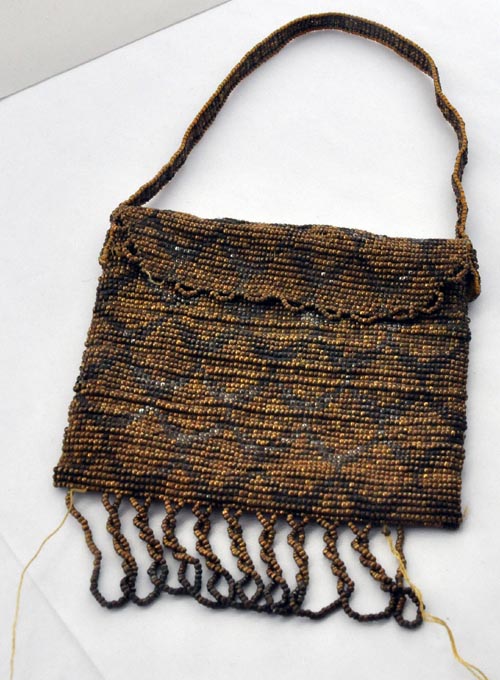 This is an adorable antique mini evening bag with antique gold & silver glass antique beads & a pink silk lining.

This antique evening bag sports a complex intricate beading pattern of gold & silver in a somewhat lattice like design.

There is a clean perfect pink silk hand made lining.

It is unsigned.

The bag has a little white button for closing the inside of this cutest bag.

It is true that some of the 90+ year old fringes at the extreme bottom needs some restoration or re-beading.

So please be advised of this and look carefully at our close up pix directly below of possible work to be done to make this small tiny little bag 100% again.

This tiny petite bag measures approximately 3 1/8 of an inch wide X approximately 3 inches long not included measuring the beaded fringes that are 1 inch long and the beaded self handle is approximately 3 3/4 of an inch high.

Bag ideal for a Bride.

Bag also ideal to hold money & your key.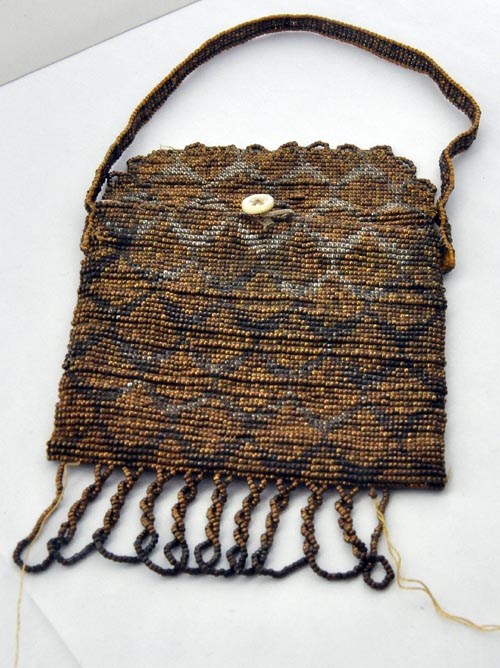 LOW PRICE REFLECTS AS IS CONDITION!
Condition- Some rows of bottom beaded fringe missing & needs repair or finishing off. Over flap missing some ornate beading decoration & also needs repair or finishing off. Pretty tiny evening bag, OR THIS DOLL'S BAG is being sold AS IS IN NEED OF SOME REPAIR or RESTORATION!
$65.
---