Terracotta is 1) unglazed, typically brownish-red earthenware, used chiefly as an ornamental building material and in modeling.
2) a statuette or other object made of terracotta.
3) a strong brownish-red or brownish-orange color.
A RARE ANCIENT TERRACOTTA FACE FRAGMENT CAMEO PENDANT STERLING SILVER Art by AVI SOFFER, ISRAEL
THIS RARE UNIQUE PENDANT IS SCULPTURE AND WEARABLE ART!
This is a handcrafted, rare, one of a kind ancient face cameo pendant made from an antiquity fragment designed by Israeli Master Artist, AVI SOFFER.
This Ancient TerraCotta face fragment is hand-set into an original sterling silver design to create a gorgeous sterling silver work of art.
Please notice how different the shading and shadows look on this ancient woman's face sculpture from the left and from the right side.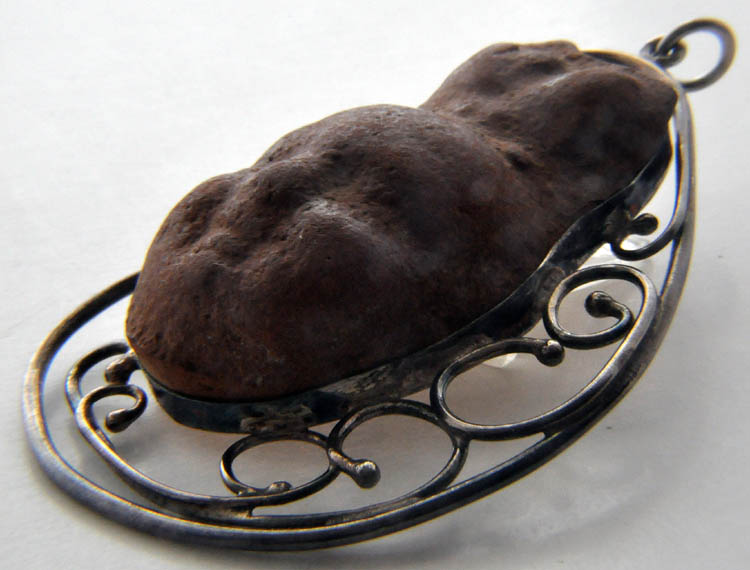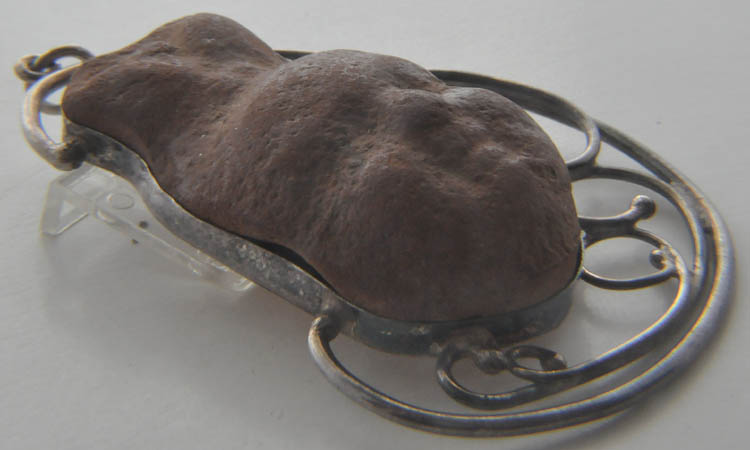 Avi Soffer's work of this period features Ancient TerraCotta mounted in Sterling Silver in an organic, Mid-Century Modern style.
This pendant is signed with the artist's hallmark logo of a winking man in a top hat in addition to, 'Israel 925 AVI SOFFER'
This Ancient TerraCotta antiquity face pendant is natural TerraCotta color and thus, a beautiful shade of brownish-red.
The handmade setting is exuberant, original & shows a masterful artistic working of the sterling silver holding this unique ancient face pendant shard held in it's own handmade bezel.
The entire pendant with the Ancient Terra Cotta face measures approximately 3 1/8 inches long X a bit more than 1 7/8 of an inch in width at the widest point.
Just the TerraCotta face alone measures approximately 2 1/8 of an inch in length X 1 1/4 of an inch at the widest point.
Additionally this ancient face has an amazing depth of approximately 1/2 of an inch.
Touching the face one feels a REAL grainy organic, natural texture.
Ancient Terracotta Condition- Very good!
This fragile ancient face is one of a kind jewelry with deep spiritual overtones.
How could this Ancient Terra Cotta antiquity fragment sculpture of this person's face dating back 2000 years from Ancient Palestine actually be able to be worn now in 2015?
What does this ancient person's expression say?