ART DECO AQUAMARINE GLASS BEAUTIFUL ROSE BRACELET 2 TONE GOLD FILLED small size
SUCH A PLEASING LOVELY SHADE OF BLUE!
Offering an authentic beautiful Art Deco period 2 tone (pink & yellow) gold filled bracelet with a dramatic rose in the center with a lovely aquamarine color blue glass faceted stone held in prongs.
This charming little flexible bracelet has Art Deco style triangle cones as the chain links alternating satin finish & textured finish up back to the old good original clasp.
It is signed, 14 K GOLD FILLED
It measures approximately for a 6 1/2 inch wrist, a small size wrist.
The rose measures approximately 1 inch X 1 inch.
$75.
---
RHINESTONE VINTAGE 1950'S SET: CHANDELIER LONG DANGLE CLIP-ON EARRINGS, NECKLACE
WONDERFUL OLD 1950'S SET WITH ORIGINAL OLD NATURAL UNPOLISHED PATINA. SOME FEW STONES (4) IN THE NECKLACE MAY HAVE BEEN REPLACED AT ONE TIME. MOST NOTICEABLE IN THE DIGITAL PIX AND MUCH LESS SO IN PERSON. LONG DANGLE GLAMOUR EARRINGS ARE IN FINE CONDITION WITH THE CLIP-ON BACKS WORKING VERY WELL.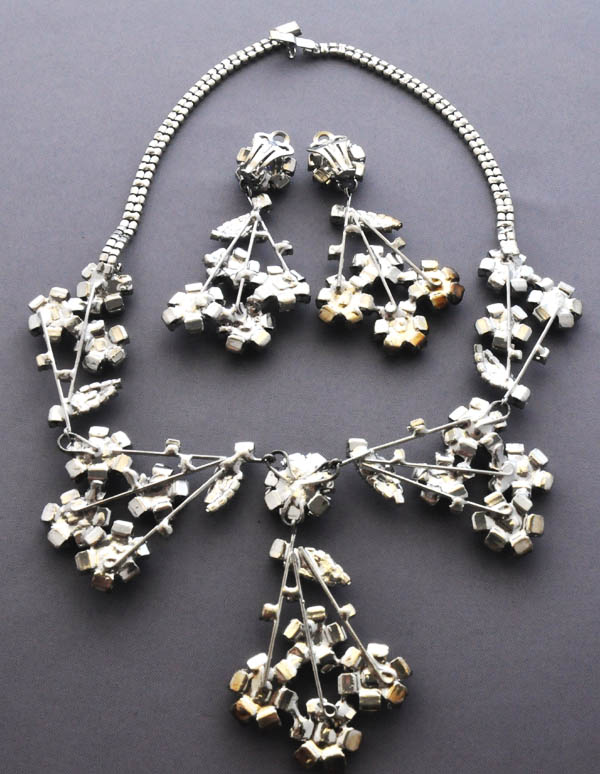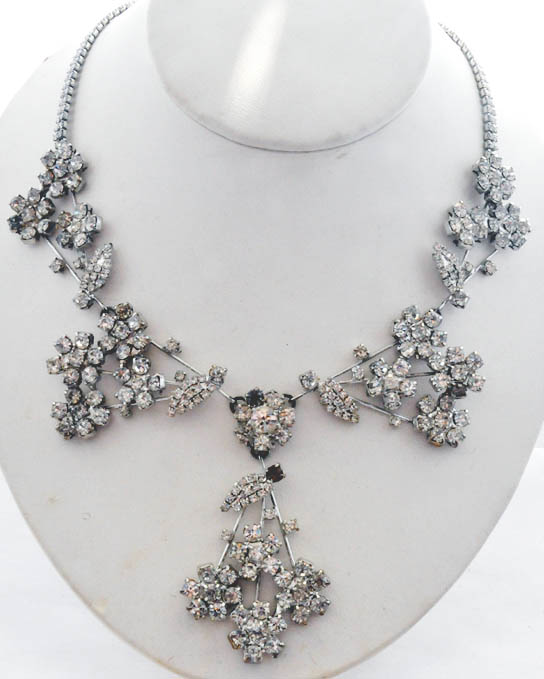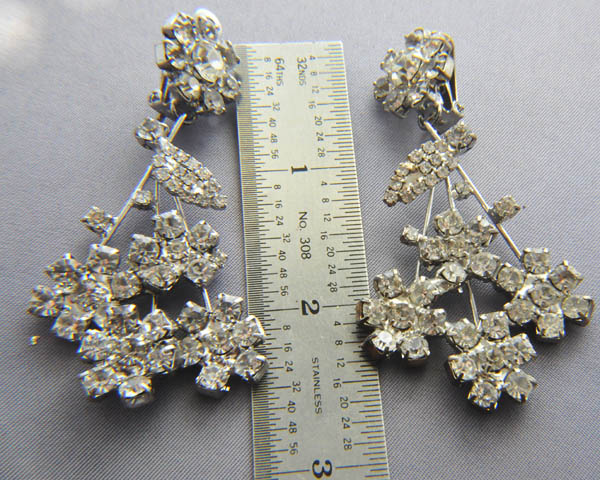 Offering wonderful old vintage glamour rhinestone set with great old white sparkle of long chandelier dangle earrings with it's matching necklace all in base old white metal.
Will be worn every night for your very fun parties!
Great for winter whites!
This great looking well made, hand made set is unsigned.
Necklace measures approximately 20 inches long.
Clip-on Earrings measure approximately 3 inches long.
Original old patina. We did not clean or polish this vintage set at all.
$250.
---
ROSES BLACK HILLS GOLD FILLED 2 TONE EARRINGS
This is a custom made pair of Black Hills Gold Filled Rose earrings which are just elegant & rich!
The 2 tones are yellow & pink or rose gold filled.
The roses are completely in bloom & open.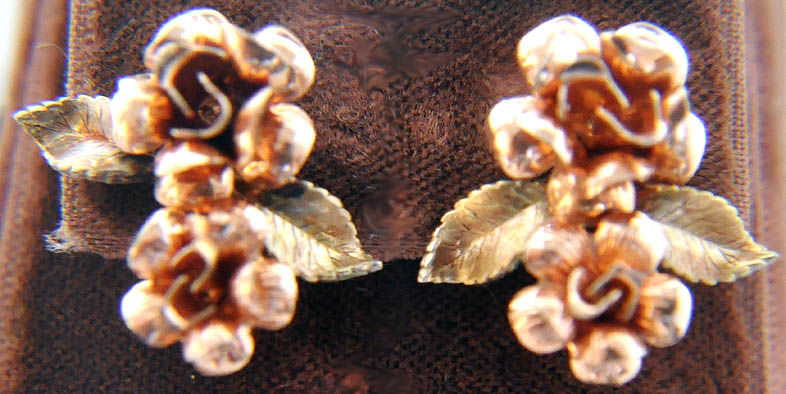 Both artistic earrings are different from each other as no 2 roses in real life nature are the same.
These earrings are unsigned.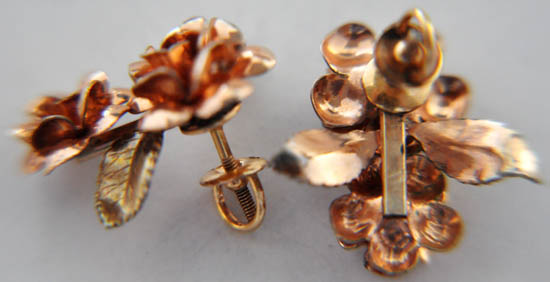 Measuring approximately 7/8 of an inch tall X 3/4 of an inch wide.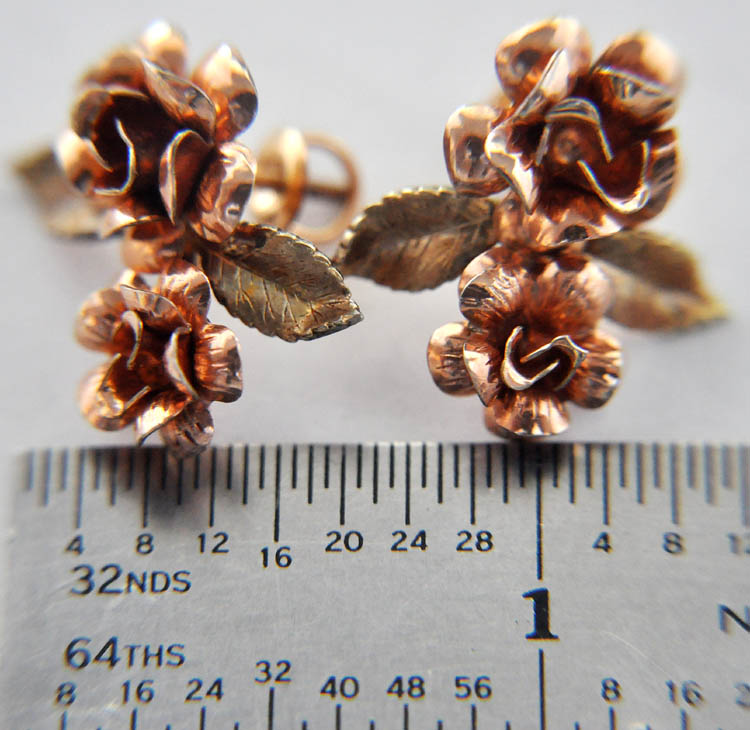 These beautiful roses screw securely into the ear lobe.
You will never lose them!
Circa 1940's.
These actually look like gold earrings costing more than $1000.
Who will know they are not gold?
They really look like genuine gold.
$150.
---
NAPIER CHOKER NECKLACE GILT METAL
Chic Mint Condition- Stunning Gilt Metal
Offering a stunning bold Napier choker necklace in gilt metal in excellent condition.
Signed, NAPIER
IT IS FOR A FOR A THIN NECK
It measures approximately 15 inches long X approximately 1 inch wide.
$125.
---
LORD'S PRAYER COPPER HEART PENDANT CHARM BIBLE MESSAGE MEDAL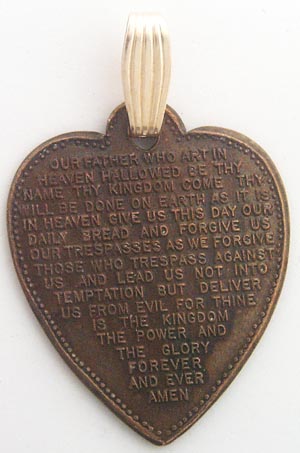 "Our Father Who Art in Heaven Hallowed Be Thy Name"
This is a spiritual message in the form of a heart with The Lord's Prayer embossed onto it.
This will look great on any chain, cord, leather or ribbon of your creativity!
Now unpolished but will polish up greatly.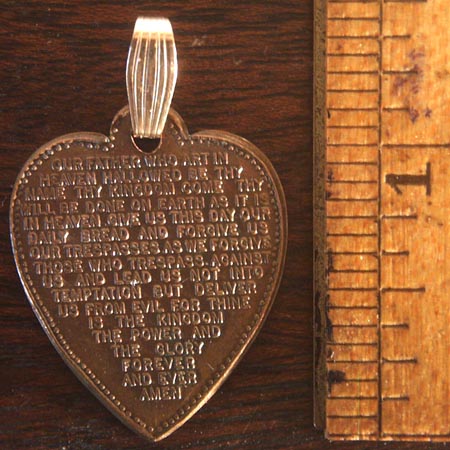 Will lie flat against the body.
It is unsigned.
Medallion measures approximately from the top of the new gold filled bale 1 1/2 inches tall X 1 inch wide.
$40.
---
AURORA BOREALIS AB VINTAGE EARRINGS CLIP-ONS from ITALY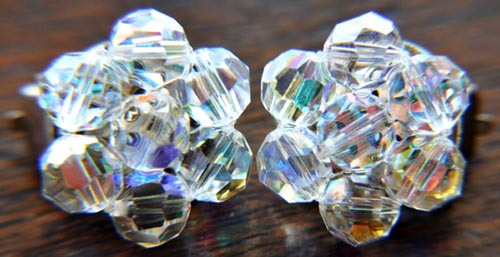 GORGEOUS CLEAN SPARKLING VINTAGE EARRINGS
This is a pair of vintage Aurora Borealis cluster clip-on earrings.
They shimmer & shine & pick up many colors.
These will look great and compliment any vintage Aurora Borealis necklace you now have!
They are each signed, ITALY MADE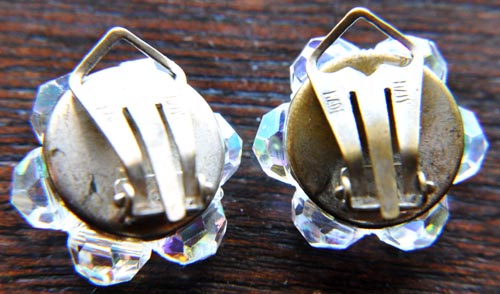 They measure approximately a bit more than 3/4 of an inch in diameter.
$25.
---
PAL CUTLERY VINTAGE 4 BLADES STAG FOLDING POCKET KNIFE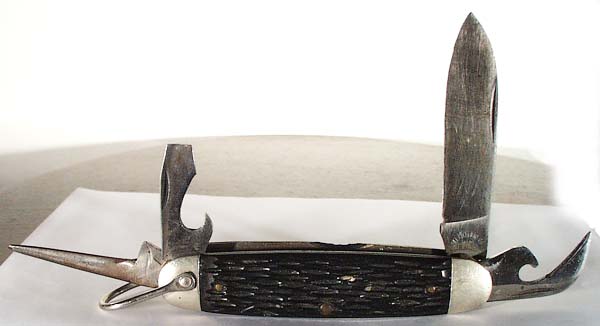 Knife is signed, 'Pal Cutlery Co made in U.S.A.'
These 4 blades go up very, very tightly although they are in used condition.
Handle is made of stag.
This measures approximately 3 3/4 inches when closed not including the long end handle loup.
Knife is $55.
---
MARVELLA VINTAGE 1960s 3 STRAND Iridescent & glass BEADED CHOKER NECKLACE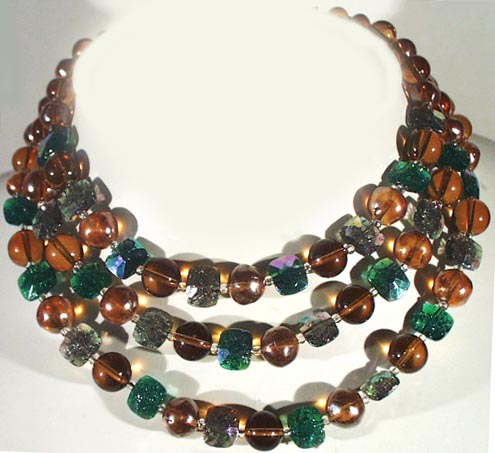 This is a vintage, lovely signed Marvella choker necklace with faceted Aurora Borealis-Like stones strung along with crystal spacers and amber color glass round beads.
This esteemed company that specialized in multi-strand necklaces such as this one, was later bought by Trifari.
The colors of the faceted Aurora Borealis-Like stones change with any light from a violet hue to a greenish one.
The glass round beads with crystal spacers in between are a very pleasing shade of simulated amber in a light brown tone.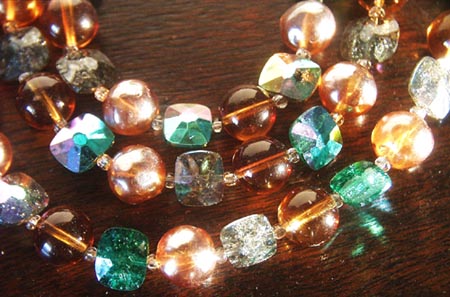 It is signed on the clasp with a rhinestone, Marvella
The most chic women are wearing these vintage inexpensive necklaces from a bygone day.
This lovely colorful 3 strand choker measures approximately for a 15 inch neck.
There is 15 inches of wearable length on the shortest strand and each subsequent strand is longer than the previous one by design.
$55.
---
MOSS AGATE VINTAGE 1920'S LONGEST NATURAL BEAD BRASS NECKLACE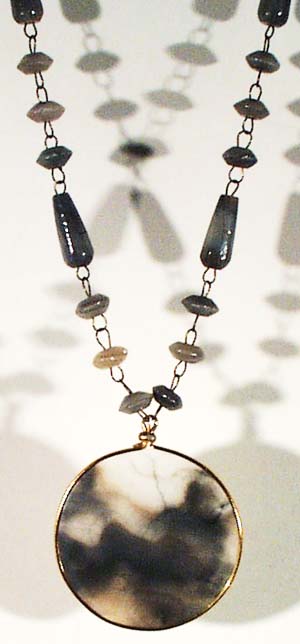 GRAY BLACK & WHITE CHALCEDONY. ART DECO NECKLACE GOES WITH EVERY OUTFIT!
This is a wonderful, vintage, moss agate 32 inch long necklace featuring a central circular spiritual medallion measuring 2 inches round in diameter.
It is strung on an old hand made brass chain featuring 38 round drilled moss agate beads and 6 long cylindrical moss agate beads.
The moss agate here shows mainly a gray field of color with inner touches of black inclusions with white.
The pattern of this round central medallion is most unique and interesting.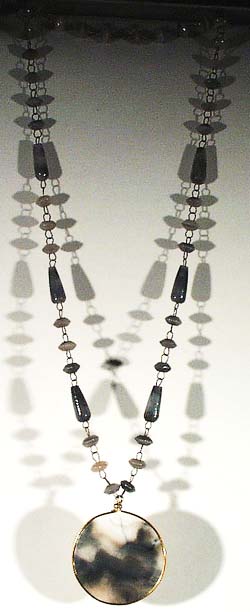 It is unsigned.
It measures approximately 32 inches long.
$125.
---
LONG LIVE BROOCHES!
All brooches pictured below are antique or vintage + most, not all, are sterling silver June 2017.
Prices range from $15. to $175.